На главную сайта "Дом Корчака в Иерусалиме"
THE WORLD COMES TO JERUSALEM
A Collection of Photographs by Sara and Eli Ross
(Continuation 1)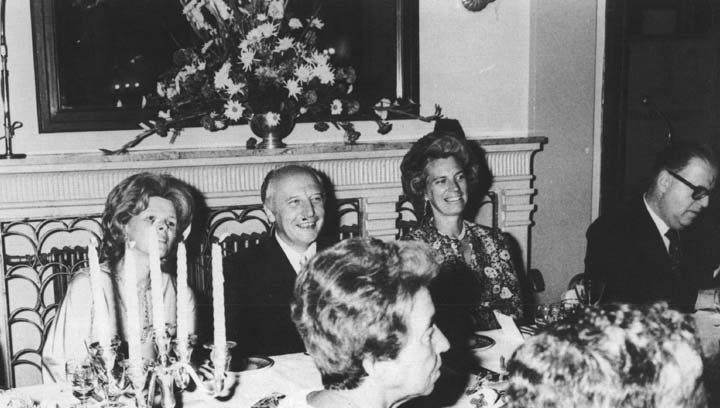 Walter Sheel, Foreign Minister of the Federal Republic of Germany, is the guest of Foreign Minister Abba Eban in July 1971.

Mayor Kollek greets Elizabeth Taylor and Richard Burton, guests of the Israel Variety Club, in August 1971.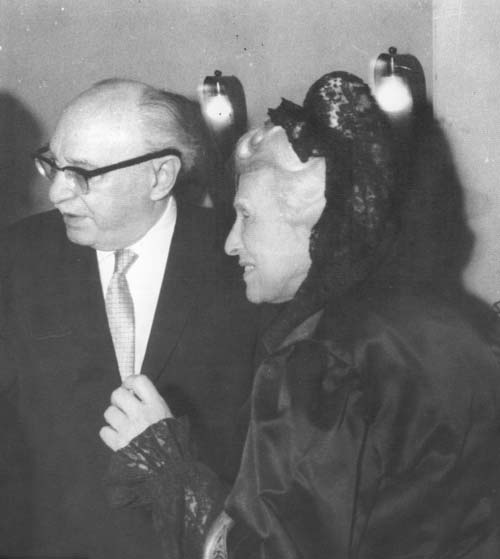 President Shazar goes behind stage to congratulate Ida Kaminska, star of the Warsaw Yiddish Theater. The occasion was her performance in Jerusalem in 1972, after leaving Poland.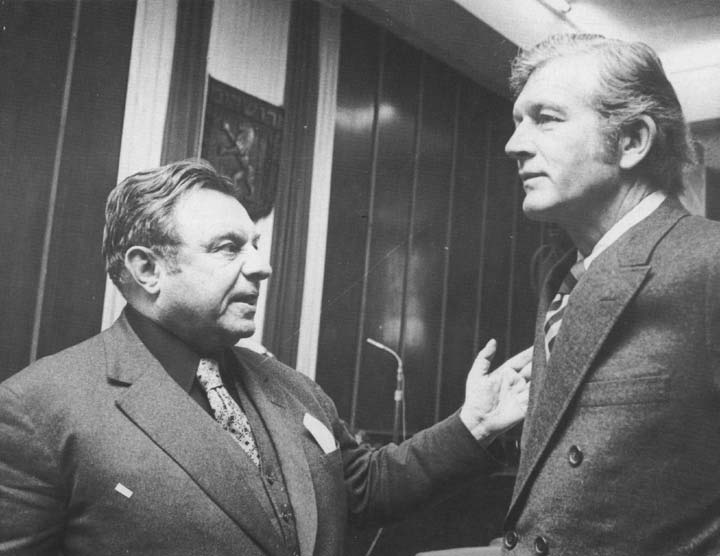 Two mayors meet, as Teddy Kollek of Jerusalem talks with Mayor John Lindsay of New York in December 1972.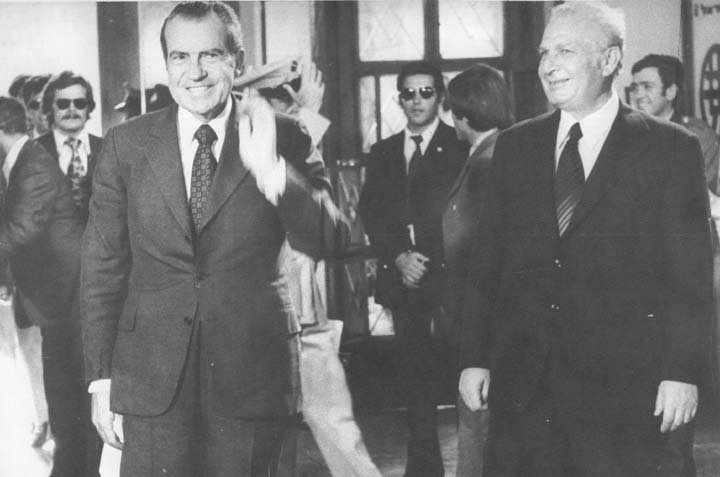 President Richard M. Nixon visited Jerusalem in May 1974 and was received by President Katzir who had succeeded Mr. Shazar in May 1973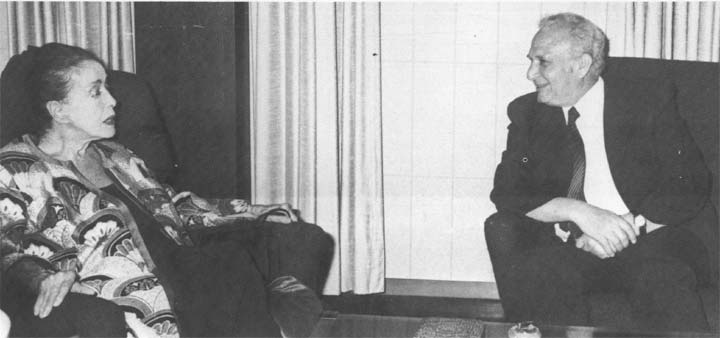 On her July 1974 visit to Jerusalem, Martha Graham, America's first lady of the dance, was the guest of President Katzir.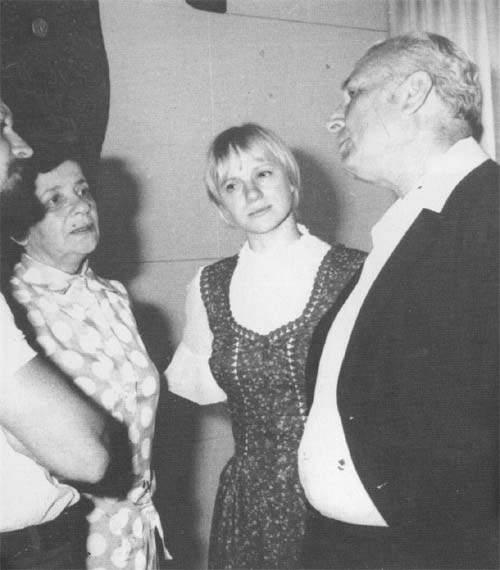 Permitted to leave Russia for Israel after a long struggle, dancers Valery and Galina Panov visit President and Mrs. Katzir at the President's Residence.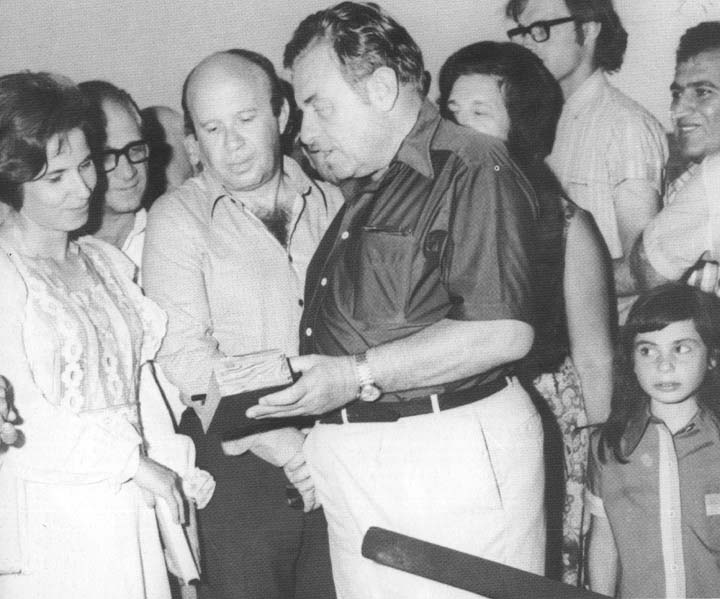 Mayor Kollek in July 1974, presents a Bible to Beate Klarsfeld, heroine of the anti-Nazi struggle in France and Germany.

Senator Edward Kennedy arrives at the King David Hotel, November 1974.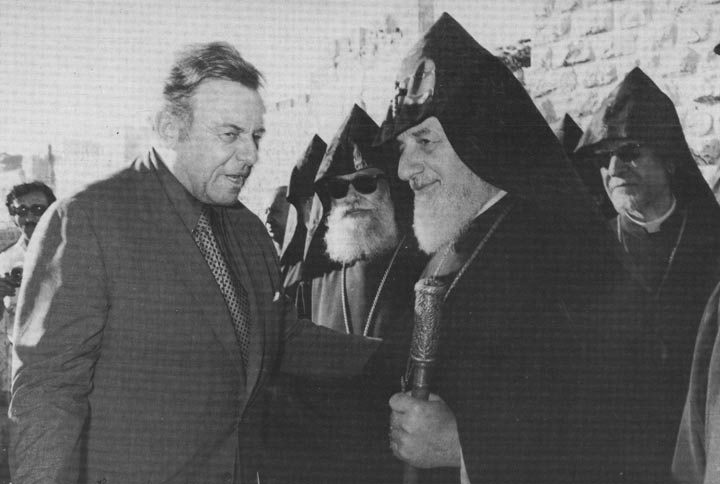 The opening in June 1975 of the new building of the Armenian Theological Seminary in Jerusalem was attended by the Catholicos of all Armenians, Vazken I. He stands with Mayor Kollek.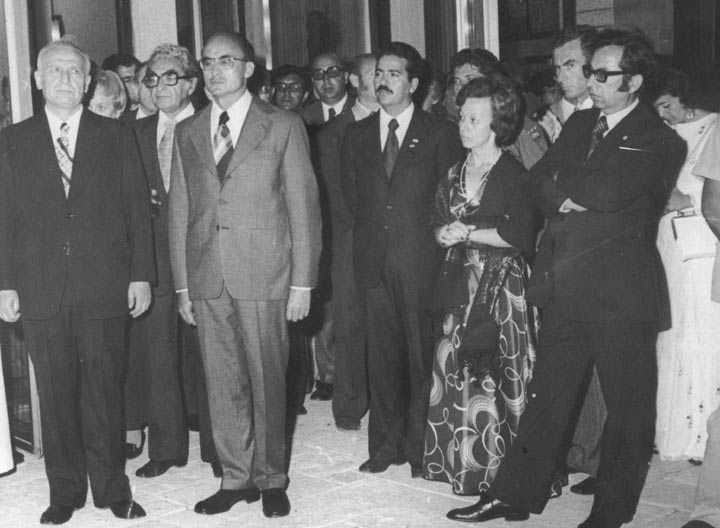 President of Mexico, Luis Alvarez Echeverria, is the guest of President Katzir, August 1975.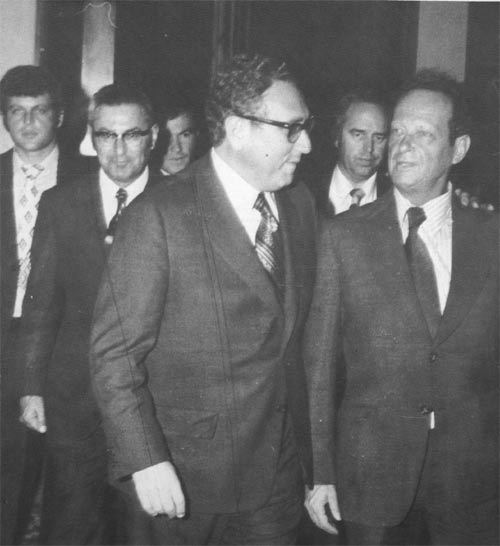 On one of his shuttle visits to Jerusalem, Dr. Henry Kissinger, then U.S. Secretary of State, talks with Israeli Foreign Minister, the late Yigal Allon (October 1975).

Nancy Kissinger meets a young Jerusalemite and reads a book on Peace, written by children (September 1975).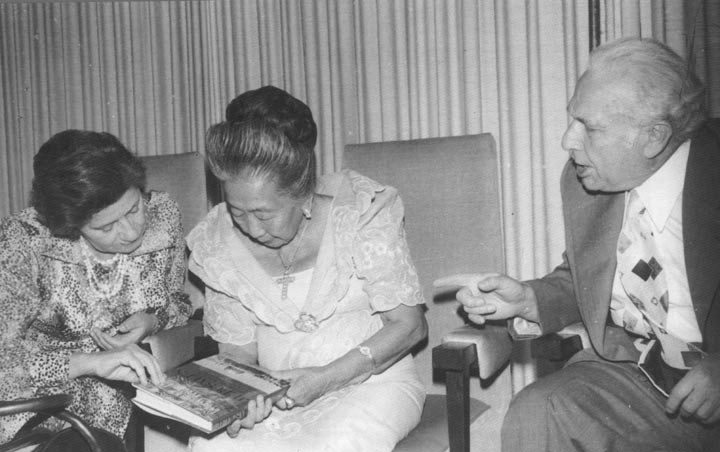 In the summer of 1975, President and Mrs. Katzir present a volume on Jerusalem to their guest, the mother of President Marcos of the Philippines.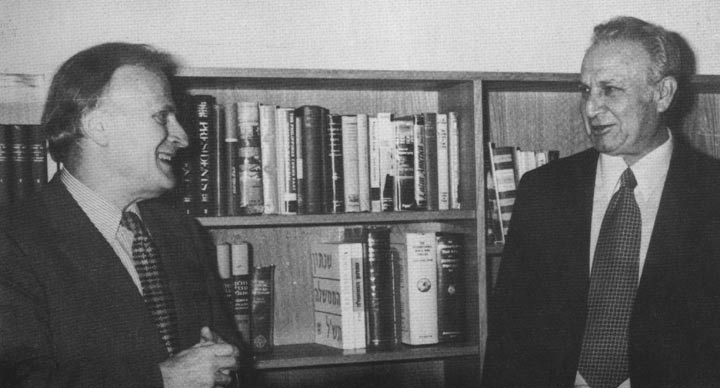 Against the background of the Presidential library Yehudi Menuhin, the violinist, and President Katzir discuss matters other than music (January 1974).

The great Russian cellist, Mastislav Rostropovich, appears before an enthusiastic audience in Jerusalem, in March 1965.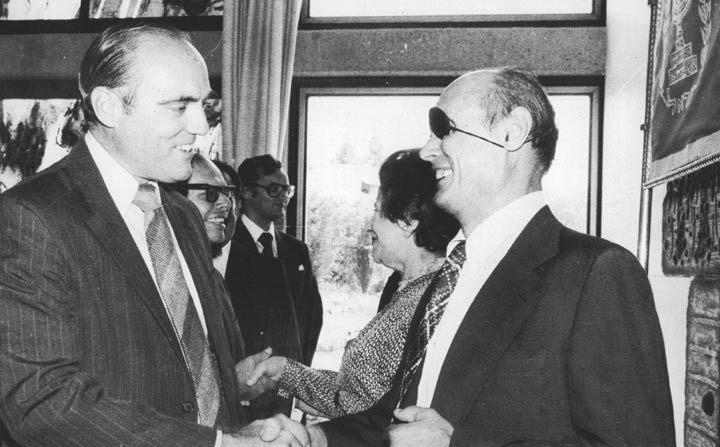 On September 9, 1977, MosheDayan, then Israel's Foreign Minister, greets United States Ambassador Samuel Lewis at the New Year (Rosh HaShana) reception of the President of Israel for the Diplomatic Corps.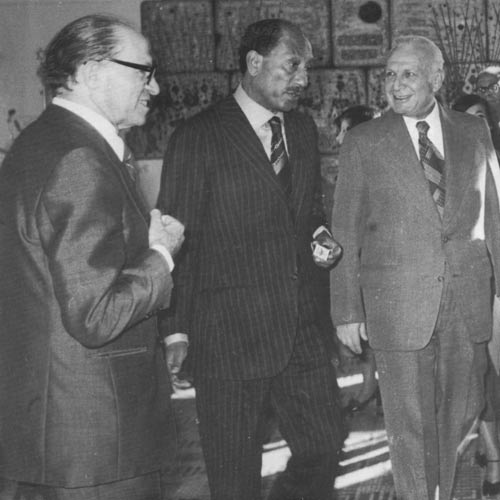 Flanked by Prime Minister Begin and President Ephraim Katzir, President Sadat visits the President's Residence at the conclusion of his historic visit to Jerusalem in November 1977.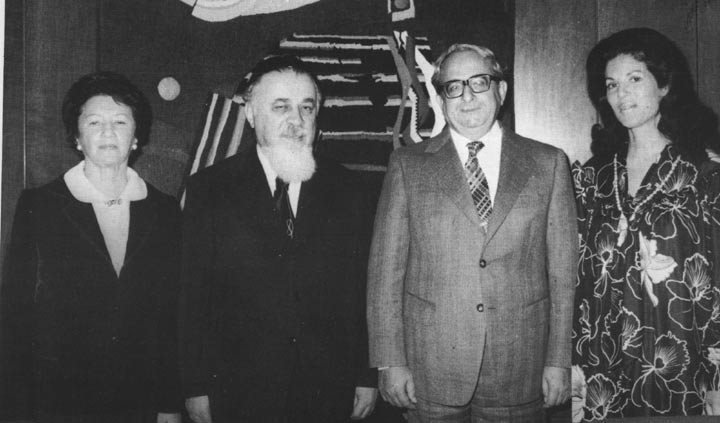 The Chief Rabbi of Romania, Dr. Moses Rosen, and his wife visit President and Mrs. Navon in November, 1978.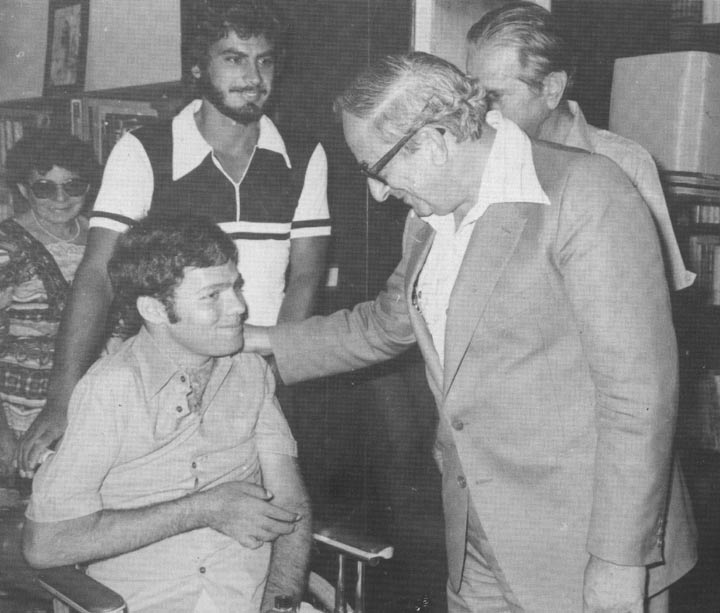 President Navon receives Surin Hershko, a wounded hero of the Entebbe raid (July 1978).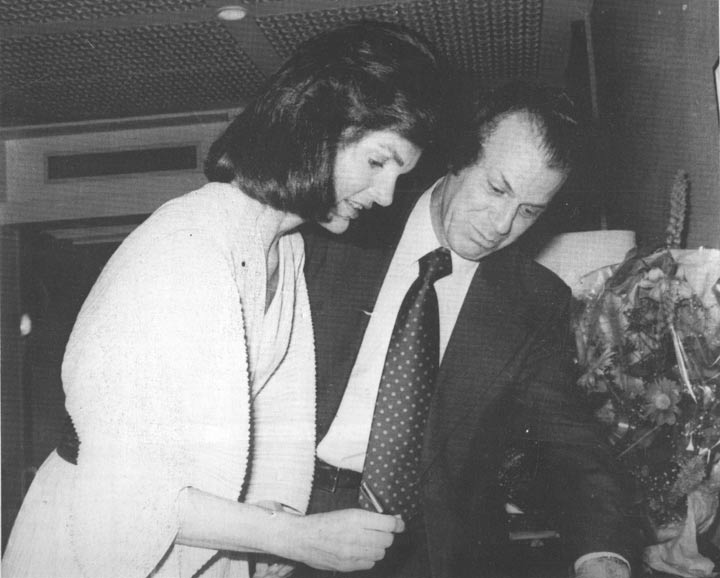 Jacqueline Kennedy Onassis signs the Guest Book at the King David Hotel in November 1978.

In August 1978 President Navon receives a group of leaders in the American Israel Bonds campaigns.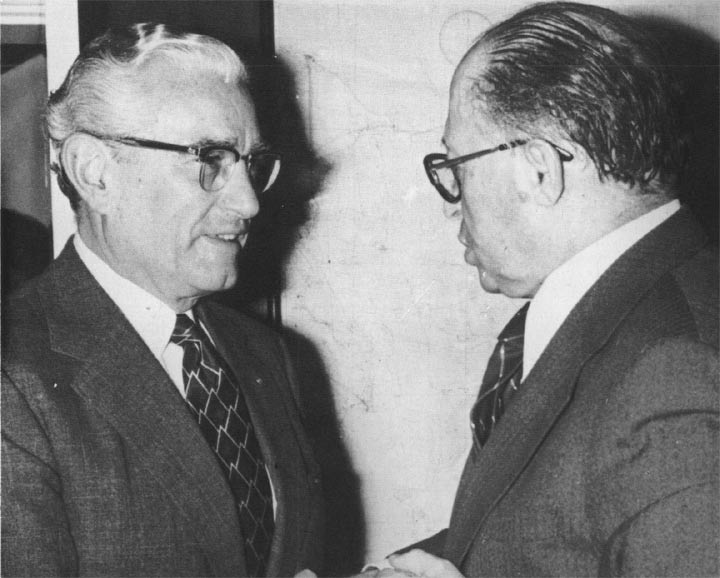 Prime Minister Begin welcomes Jack Spitzer, World President of Bnai Brith
(December, 1978).

President Jimmy Carter is seen hen talking with President Navon and Prime Minister Begin, during Mr. Carter's visit to Israel in March, 1979.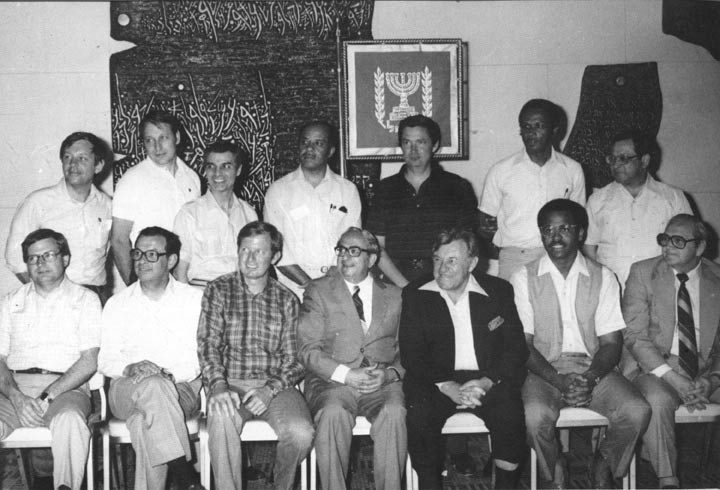 Agroupof American mayors —relaxed tourists for the moment—meet with President Navon and Mayor Kollek in April, 1980.

Mayor Koch of New York City meets President Navon during the Mayor's visit to Israel, July 1980.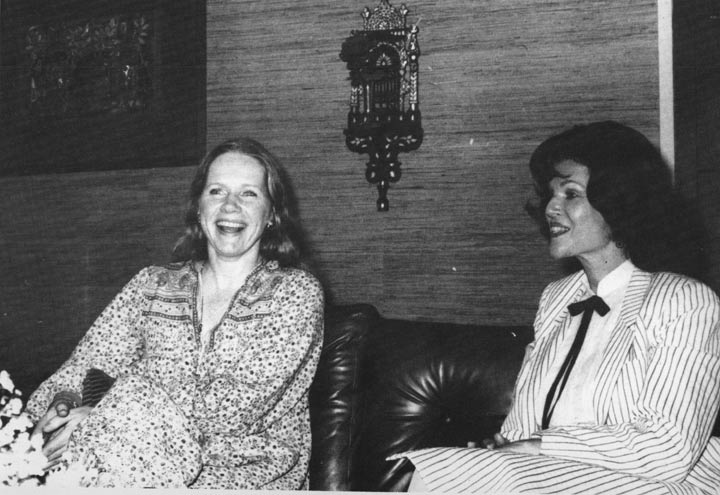 In December 1980 Swedish actress Liv Ullman visits Israel as Goodwill Ambassador for UNICEF and is received by the President's wife, Ofira Navon, Chairman of the Israel Committee for UNICEF. Jerusalem in June 1962.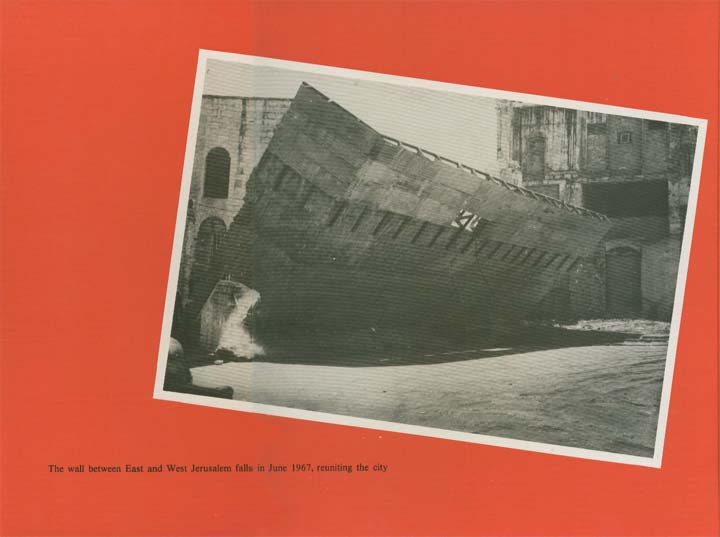 ЕЩЁ НА НАШЕМ САЙТЕ:

... И МНОГОЕ ДРУГОЕ ...